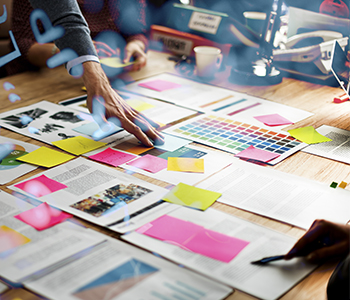 When you start a new business, there are literally dozens of things that you have to figure out; things like payroll, insurance, benefits, vacation time, etc. But what's far more challenging than any of those things is trying to decide how you want to run your business and what you want to do differently. These are the big questions that keep us up at night.
We are working with a new client on a very important project. For the time being, I am going to be extremely vague in order to maintain our client's confidentiality. But suffice to say this is a branding project that includes logo design, packaging and overall brand positioning. Traditionally this type of project might include a meeting of the creative staff as well as the project manager and account rep. So, we had our meeting, did some online research, then got to work designing.
Our initial designs for this project were good. They showed some promise and certainly had some stand out elements, but they were not great; something was missing. So, we decided to take a little field trip and look at what our client's competitors were doing: what worked, what didn't, what stood out from the pack and why. We also talked to the salespeople who sold this product and got their thoughts about why certain brands worked better than others. They were even kind enough to let us borrow some inventory to bring back to the team and client to help develop our strategy. You're probably thinking, "good job Captain Obvious, you looked at what the competitors were doing," but the truth of the matter is that most projects that don't have national budgets or focus group testing never get this extra level of attention.
The information we got was exceptionally valuable. We learned so much and the people directly involved in the creative process felt valued and respected, as they should. We came back to this project with acquired insider knowledge and enthusiasm that gave us a massive leg up in our understanding and execution of this project. The work we are doing now is monumentally better than what we had initially created. We are still "creating", but the work is wonderful and we feel extremely optimistic about our work making the client happy.
What we learned…Sometimes you have to step outside the box, LITERALLY.  Get out of the office and take a field trip. Get out of your comfort zone and try something different.    
Stay tuned for part two of this outside the box post where we let you know if our creative is chosen and we can share a bit more about our client and their new brand. 
Darby Dwyer, Brand Manager and Owner, Green Closet Creative 
"This has been a crazy journey, but I am so glad I am taking it with the amazing and talented people who are my partners, employees and friends."