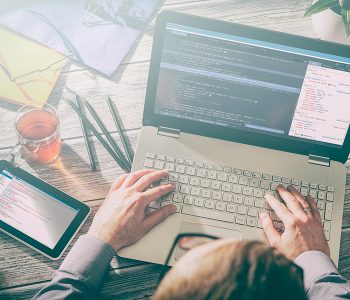 Website accessibility simply means that your site can be used by people who have disabilities related to vision, hearing, or physical capabilities.  Where things get a little complicated is that this does not simply mean people who are blind or deaf; it covers a wide spectrum of disabilities. For example, someone who is defined as having "low-vision" requires that your site have strong color contrasts in order to easily read the text. This can get tricky when companies want to use branding colors on their website and those colors do not meet web accessibility color contrast requirements. 
WCAG 2.2 is the current standard used to evaluate ADA website compliance. The guidelines required to meet WCAG 2.2 are explained by W3.org here.  Unless you have a degree in computer science and years of experience working in website development, you're not likely going to transition your site to meet ADA compliance requirements without the help of an experienced web development team.
Why Do I Care About Website ADA Compliance?
Title III of the Americans with Disability Act (ADA) requires most businesses that offer goods or services to the public to make those goods and services equally available to disabled consumers. The U.S. Department of Justice has stated for years that Title 111 applies to websites.  In 2017, it appeared that the DOJ was going to prevail in its efforts to make website compliance law, but at the last moment, the Trump administration put those regulations on hold.
In 2019, according to an analysis by international legal firm Seyfarth Shaw, web accessibility federal lawsuits hit record numbers, with 11,053 suits filed in federal court, an 8.8% increase from 2018. [Source]
Web accessibility lawsuits have hit record numbers in recent years, and we expect this trend to continue. Biden's administration has pledged to fully enforce Section 508; he even talked about it on his campaign website. Biden's upcoming Assistive Technology Act and the new accessibility standards WCAG 2.2 lead us to believe businesses must be proactive or they will be left behind.
Some notable companies that have been sued for not having ADA-compliant websites:
Airbnb
Amazon
Apple
Capital One
Domino's Pizza
Marriot
Starbucks
Toyota
UNC Health Care
Wells Fargo
Toyota
But please don't assume that these monster companies are the only ones being targeted.  We have worked with a number of small local/regional businesses that have been the target of website ADA non-compliance lawsuits.  
An additional argument for accessibility is that a lack of compliance can lead to a lot of lost business and hurt a company's reputation.  According to the Centers for Disease Control, approximately 61 million people, or a quarter of the adult American population, live with a disability. That is a huge segment of the population to ignore.
Lastly, making your site ADA compliant is simply the right thing to do. We all want access to information, shopping, and resources on the web. And while you may not have known about this issue in the past, you do now.
If you would like help learning more about website accessibility and to have an audit done of your current website, contact Green Closet Creative to learn more.