Project Info
Reconfiguring, Rethinking, and redesigning a website for Innovative Growers Equipment
When we were presented the opportunity to recreate the Innovative Growers Equipment, (IGE) website, we were thrilled with the challenges and the opportunities this project created.
The first challenge we addressed was the somewhat overwhelming navigation. In addition to having an administrative navigation with social icons, a main nav, and a store nav on three levels, the drop down menus felt a little basic. We dealt with this by designing a custom menu that was more stable and provided users with a much more extensive overview of what IGE had to offer. In addition, we could clean up the header by utilizing a hamburger menu and make the Get a Quote, shop online and site search stand out in a much more meaningful way.



Web Development
Don't Sacrifice on Mobile
We all know the limitations of mobile design. Sometimes we have to sacrifice style for functionality and traditionally in the past, that has been worthwhile trade. But when we talk about Mobile First Design, we mean it.
Our expectation is that the mobile website experience meets or exceeds a desktop experience. In addition to all the functionalities working on mobile, every table, every animation, every single image map functions as well on mobile as it does on desktop, we also want the site to be attractive on mobile. We don't want a stripped down version of a robust site that feels like "less-than."
After – Mobile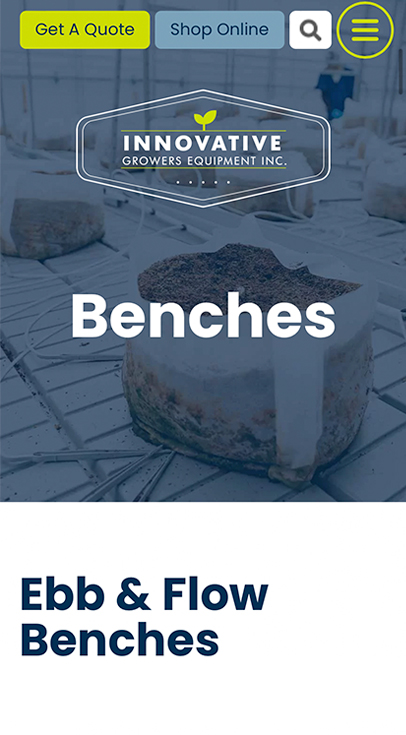 After – Mobile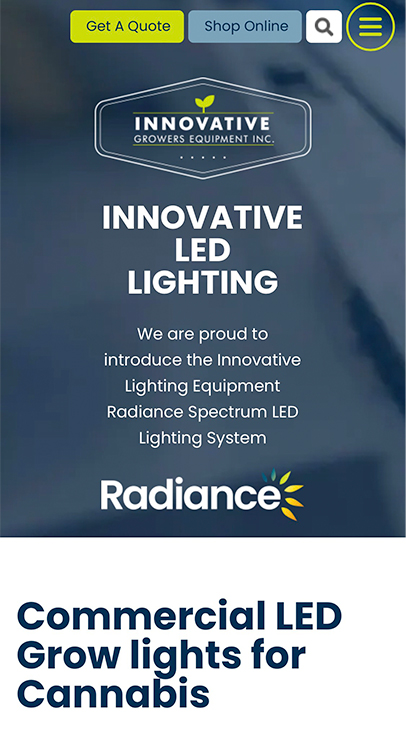 Before – Mobile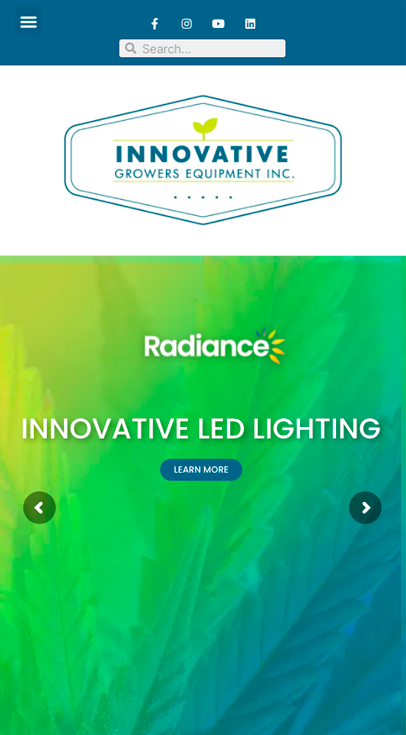 Utilize image mapping to promote product benefits
It's one thing to list product benefits in a paragraph form or in bullets about a project, but it's something else completely to build interactive image mapping to highlight product benefits. We utilize this tool throughout the site, but you can check it out on our homepage to get a quick idea of how it works.
ADA Compliant
When you visit IGE's new website, you will notice a small wheelchair icon on the lower left hand corner of the site. This widget provides an AI-powered web accessibility solution that makes IGE's website accessible to people with disabilities and compliant with accessibility legislation.
The accessibility tools are not limited to visual and hearing challenges, this tool improves the website experience for people with seizure disorders, ADHD, and even color blindness because Innovative Growers Equipments is committed to ensuring that everyone has equal access to information on their website and their products.

SEO Results
Prior to the launch of the new website, Innovative Growers Equipment only ranked on the first page of three of the terms listed below. Now they are on page one for all keyphrases and #1 in the country for four of the keyphrases. Their lighting SEO was virtually non-existant and just three months later they are on page one for several search terms.
90 days post website launch–IGE's organic ranking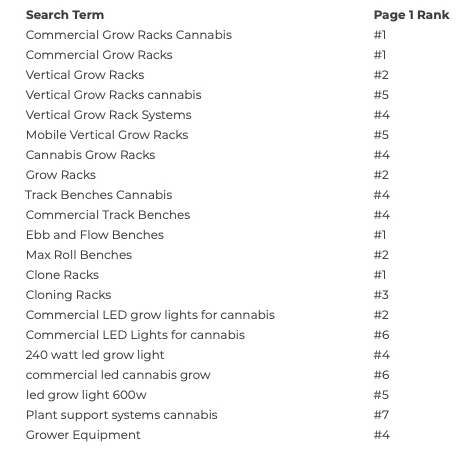 Speed Testing & Analysis
Page speed, ranking and SEO are all correlated and affect one another.
Innovative Growers Equipment's website ranks high for desktop and mobile and we continue to monitor the speed results to improve the speed and in turn Google ranking of this site.
Desktop speed test results

Mobile speed test results