BACKGROUND
Hydrofarm Commercial Solutions is a premier supplier of greenhouse supplies specializing in the commercial cannabis growing industry. Hydrofarm Commercial Solutions sells industrial equipment like racks, benches, LED lighting, climate control products, plant nutrients, water management, and more. HCS offers products that help commercial cannabis growers to maximize growing space and yield.
BUT YOU'RE NOT E-COMMERCE!
Hydrofarm Commercial had a very robust integration that was similar to an e-commerce platform, but rather than buying products; commercial growers could add them to a wish list. Due to a number of regulatory requirements, this strategy made sense when the site was launched, but as the commercial side of the business grew, and Hydrofarm developed a commercial team of experts to help advise commercial growers from seed to harvest, the self-serve model no longer made sense.
UNIQUE FEATURES
The homepage of Hydrofarm Commercial Solutions begins with an extensive selection of product categories, paired with visuals, to help the buyer begin their search. The home page also includes a unique layered animation of a commercial grow facility to demonstrate the full range of services provided by The Hydrofarm commercial Team. As the user scrolls, the animation layers shelving, lights, and nutrients into the empty room.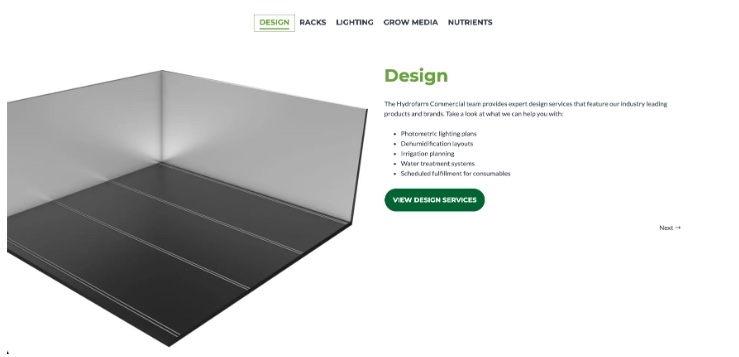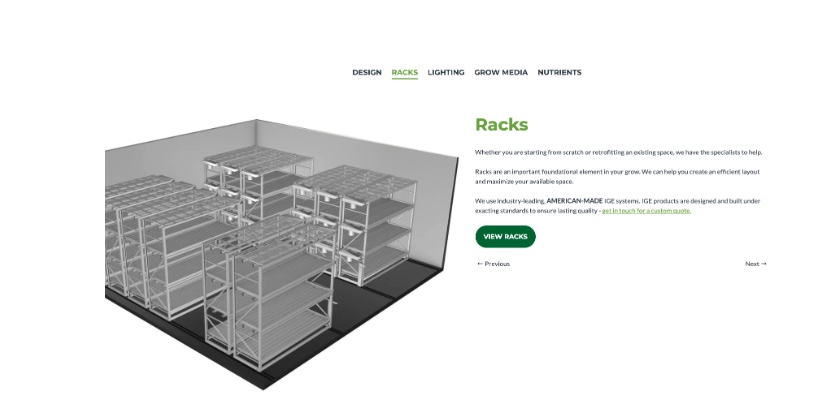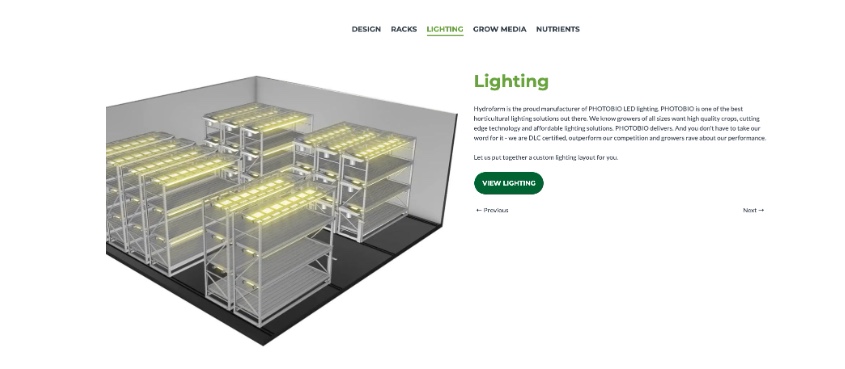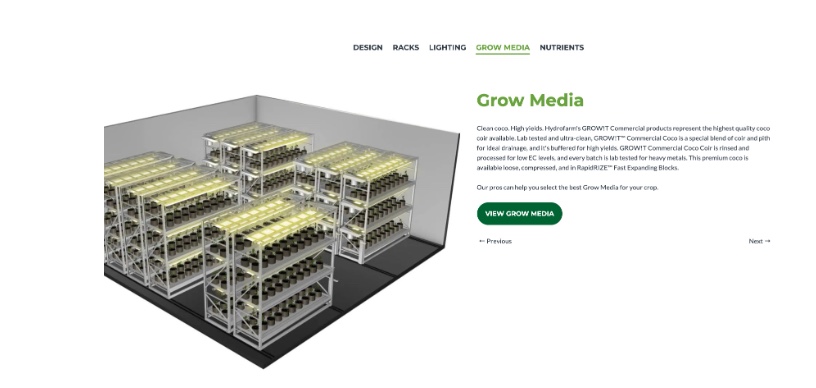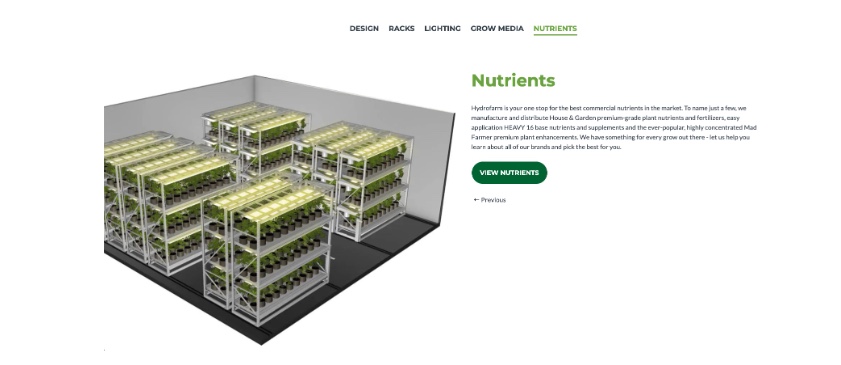 ENCOURAGE GROWER INTERACTION WITH COMMERCIAL TEAM
All internal product pages offer multiple engagement opportunities.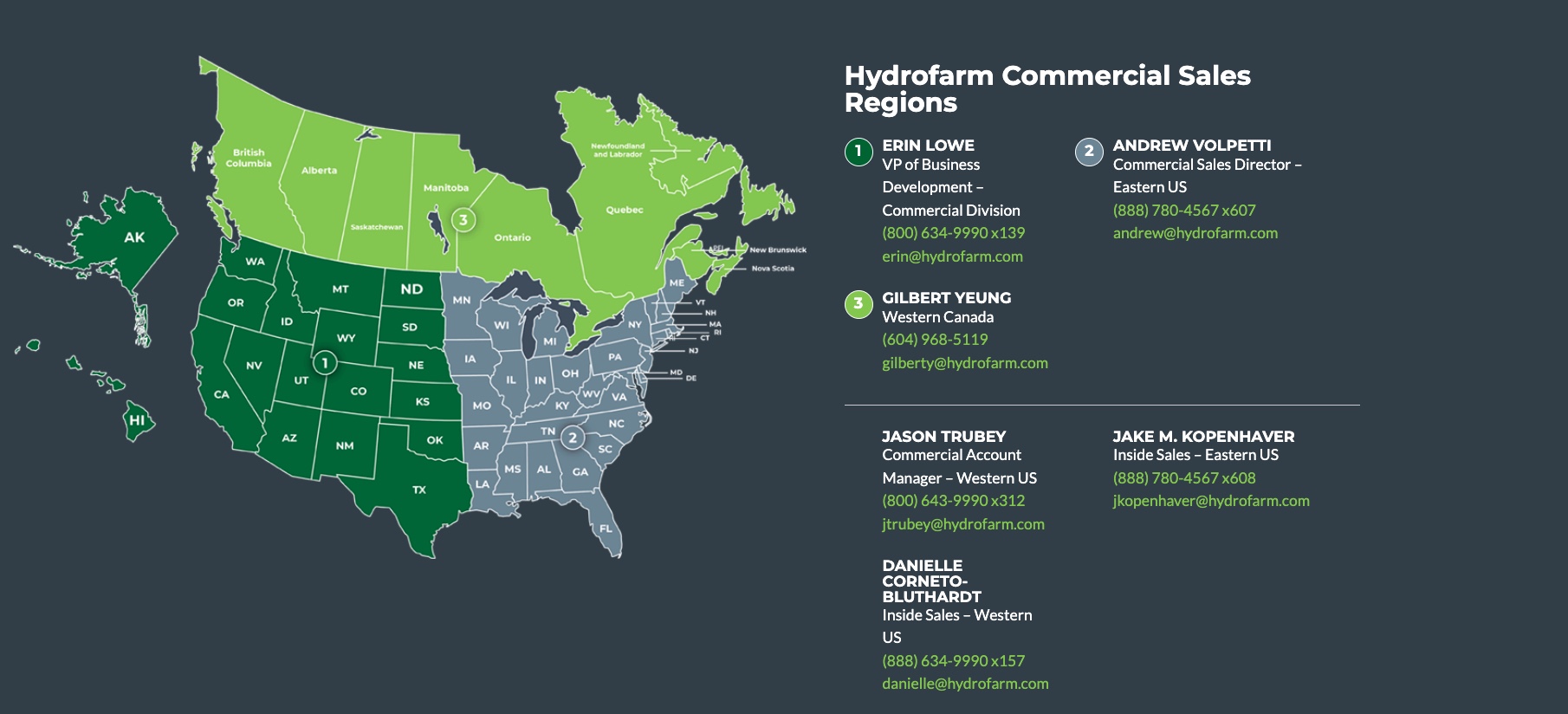 Speed Testing
Page speed, ranking and SEO are all correlated and affect one another.
Hydrofarm Commercial's website ranks high for desktop and mobile and we continue to monitor the speed results to improve the speed and in turn Google ranking of this site.
Desktop speed test results

Mobile speed test results

ANALYTICS
While industry trends are down, in the few weeks that the new Hydrofarm Commercial website has been live, their analytics has improved in virtually every metric.
Since the site launched just a few weeks ago, users, new users, sessions, pageviews, pages per session and session duration have all increased dramatically with some metrics increasing by over 50%.