Project Info
Create a User-Friendly Website for an Improved User Experience
Recently, we were given the opportunity to redesign and improve the website for Discover Sycamore. The website, which serves the purpose of helping both locals and visitors navigate the area's establishments and events, wasn't user- friendly and this made it uncomfortable to navigate. After assessing the website and understanding our client's needs, we put a plan into place that would include an updated design, an intentional logo, improved space for marketing, and a user-friendly calendar, as well as significantly increased mobile and desktop speed.



Modern Design and Colors
Everything changes over time, and websites need to remain current if they want to be noticed. Design and color choices matter and it's the first thing we noticed about Discover Sycamore's site. The old colors were outdated and left little room for new styles and choices. We changed the color palette to include colors that could easily be worked with or added to, as opposed to the ones that were in place. The website now has a modern edge with a new color scheme and there is now more flexibility to add additional designs as needed.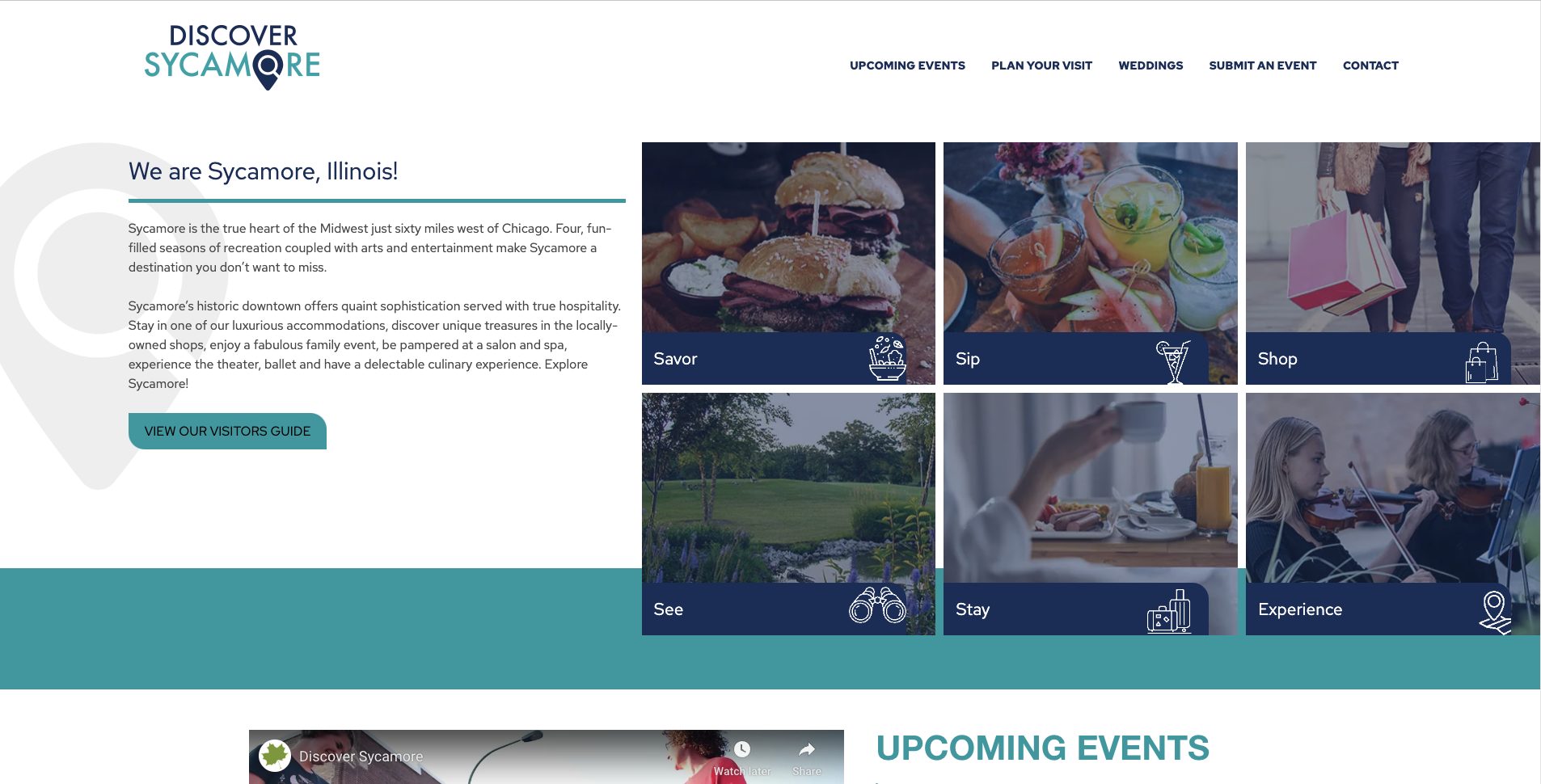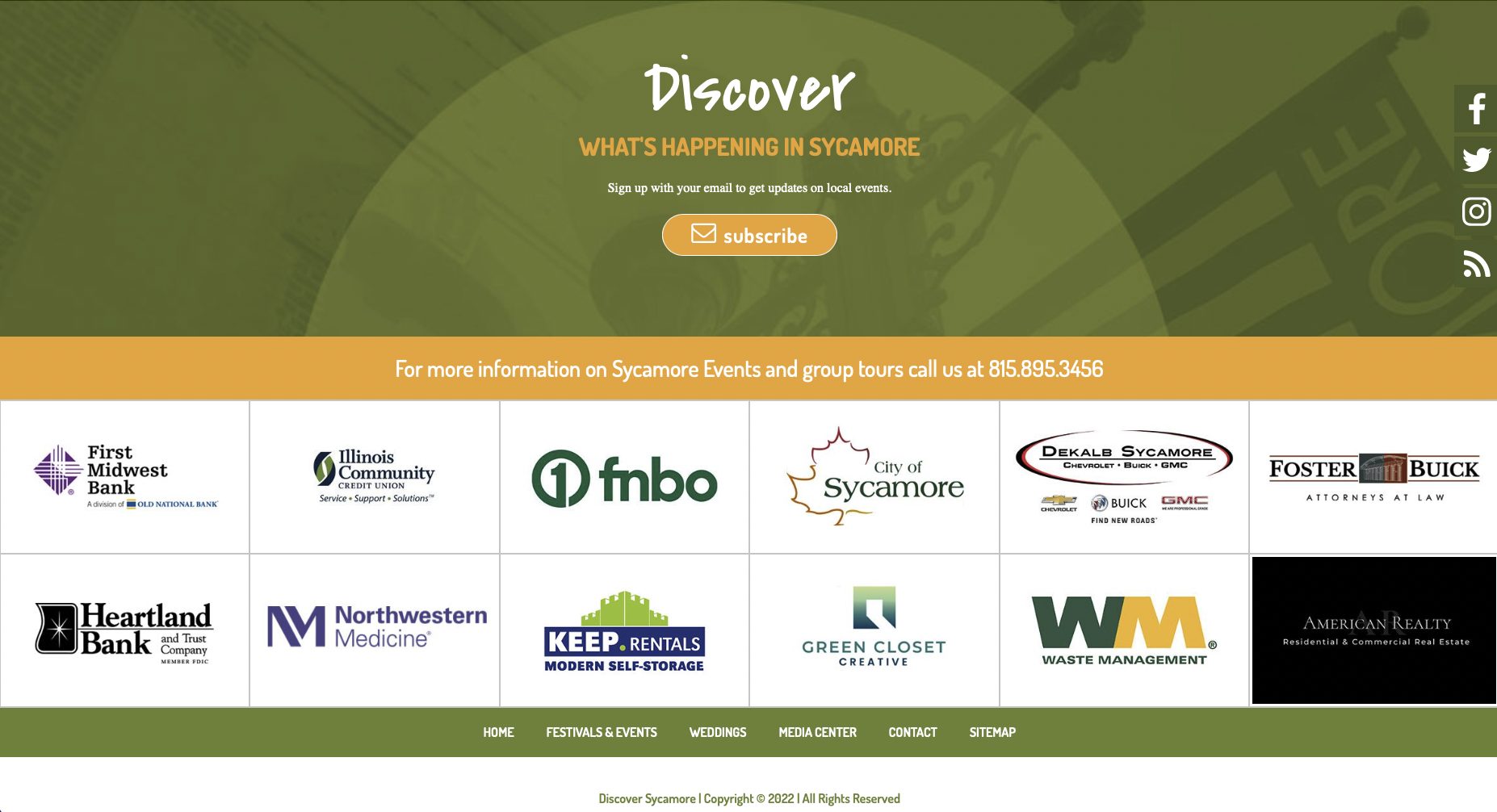 An Intentional Logo
Logos are often one of the biggest decisions for a business and it can be difficult to choose the right one. There's a good reason for that – a logo represents your company. One small logo says a lot about who and what the company represents. Discover Sycamore's logo was ready for an updated look and a design that serves a purpose. We created a design that not only looks clean and modern, but it tells website visitors what the site is all about. We purposely added an icon in place of a letter in the word "Sycamore" that represents location and "discover". When visitors are on Discover Sycamore's page, they know exactly what the purpose of the website is, simply by reading the logo.
A Better Calendar and a Clear Marketing Space
Sycamore is an active little town with plenty of events and activities throughout the year. An important part of the website is to make those events known so the community and visitors are always involved. We created a full, easy to read calendar page, allowing visitors to quickly see what's going on in Sycamore. We then added a marketing space on the website where our client could quickly add current and upcoming events so visitors can see what's right around the corner.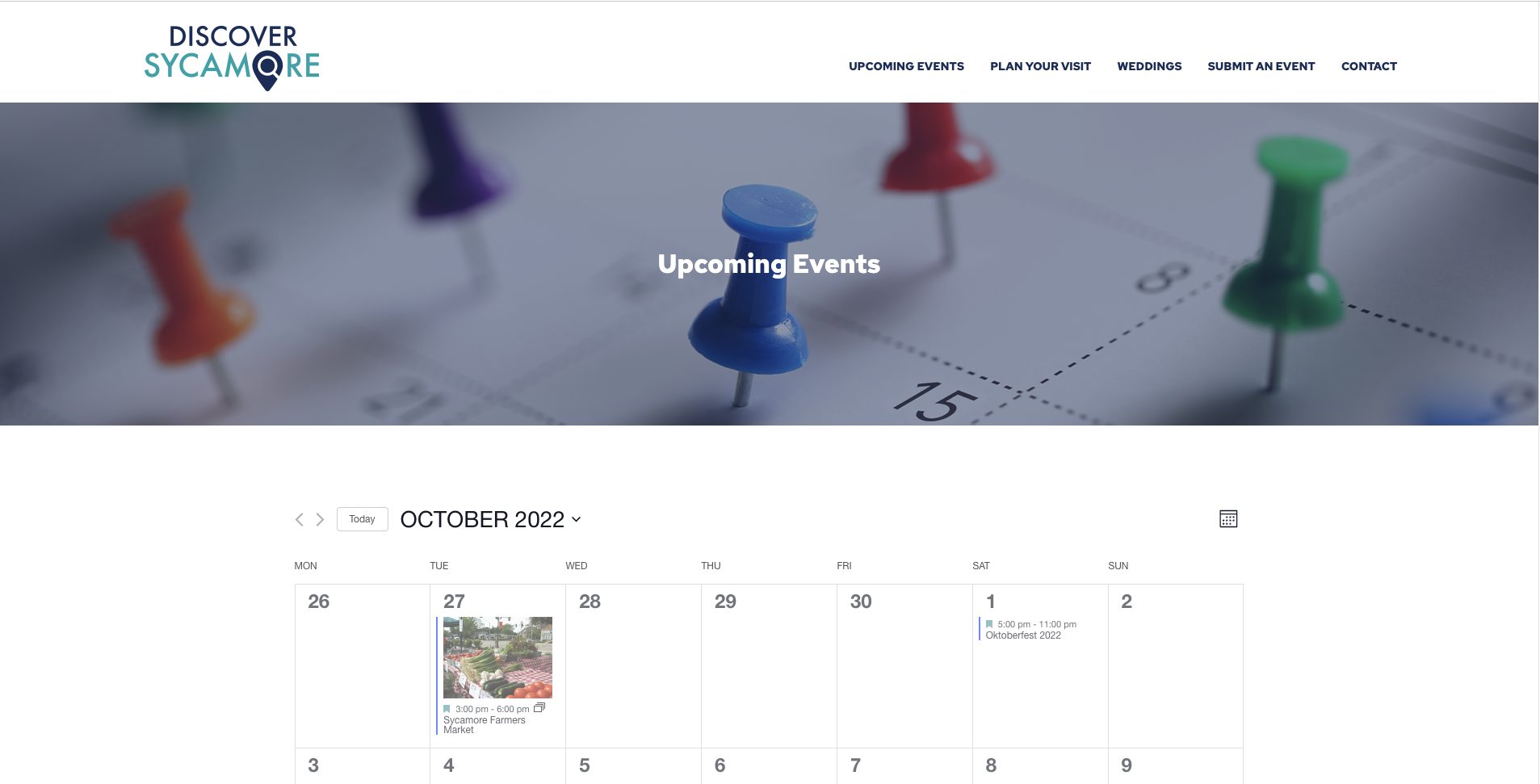 Faster Speed and a Beautiful Mobile Site
If you've ever wondered if your mobile site is as important as the desktop, the answer is yes. 80% of visitors at a website are visiting from their mobile device. Have you ever gone to a website from your smartphone or tablet, only to find that you couldn't navigate it well, even though it works fine from your desktop? That's unacceptable for a business and we took care of that issue for Discover Sycamore. Their mobile site is now beautiful, quick, and just as easy to navigate as the desktop version.
Today, speed is everything when it comes to websites. We all have to admit, when a site takes too long to load, we lose patience. Not only that, to grow in any industry today, you've got to be noticed by Google to move up in their rankings. Google has implemented a User Experience Algorithm to understand the speed of all websites. The faster the speed, the happier Google is, and that's good for business. We increased the mobile site speed of Discover Sycamore to 90 and we brought the desktop to 94, with 100 being the highest speed possible.
Desktop speed test results

Mobile speed test results