Project Info
REDEFINING & REDESIGNING BIGFOOT: WHERE MARKETING & MANUFACTURING MEET
In December 2022, Green Closet Creative launched a newly designed and developed website for our client Bigfoot, a manufacturer of outrigger pads. The client had been working with a legacy firm for many years, and we were asked to provide a fresh set of eyes. Bigfoot leveraged our GCC marketing team that comprises 25 years of experience in manufacturing, Mike Blaser, and 20+ years experience in marketing, Darby Dwyer.
Flow of Information
We set out to organize the flow of information and clearly define what set Bigfoot's products apart from competitive offerings. It was also important to define and address the various markets that the products are sold in and differentiate which products are available for each market. Considerable content development was necessary to articulate the features and benefits of Bigfoot's various product offerings. Because of the complexities of this project, our team gained valuable experience and expertise, such as incorporating WooCommerce, an e-commerce software solution, into the website.




Web Development
Cohesive Design & Product Placement
Consistency and consolidation are two key features of the Bigfoot website. Adhering to a consistent design throughout the website creates a unified online presence; no matter where a user lands on the site, they know it's Bigfoot Outrigger Pads. Consolidating each product on their homepage highlights all the available options, and links to each specific product page provide all the details a potential customer needs to know.
Ease-of-Use
Putting the main products front and center on the homepage made consumer navigation easy. The products were also coupled with the available optional features. Additionally, we made it very easy for users to get a quote by including a button under each product option as well as a static "Get a Quote" button in the ever-present header and footer. This user-friendly option extends to the always-present social media icons on the right-hand side of the website.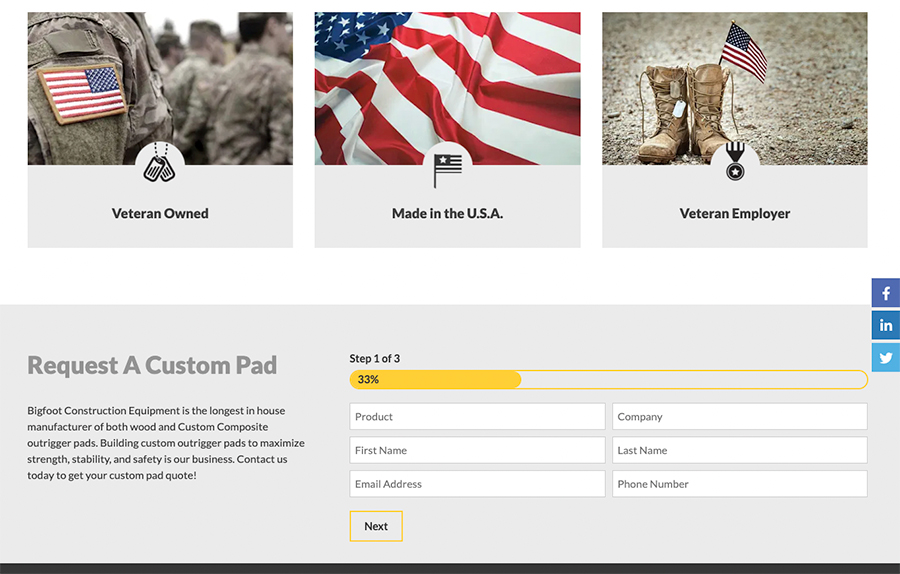 Importance of Mobile
Every site should be responsive when it's built. This site was no exception. But going beyond making the website responsive, we took time to think about the most important information being at the top of the mobile screen. The phone number is the first thing, followed by the iconic foot symbol, hamburger menu and products right away. Their products being made in the U.S.A. is very important to them, along with how long they have been in business.
After – Mobile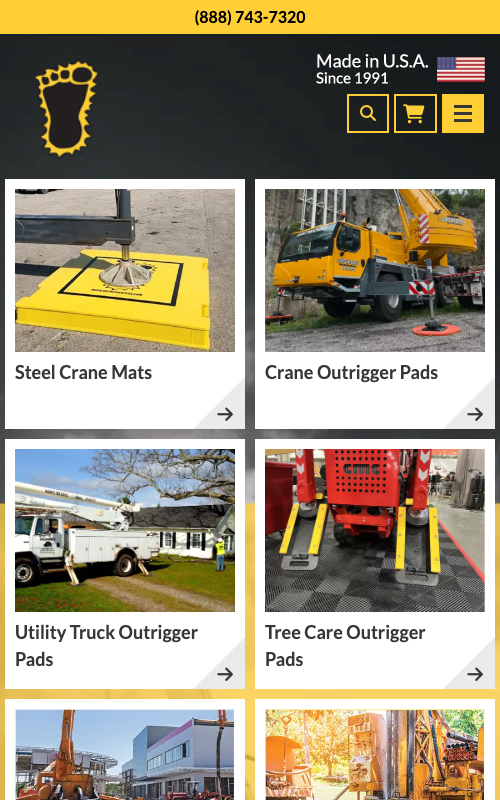 Before – Mobile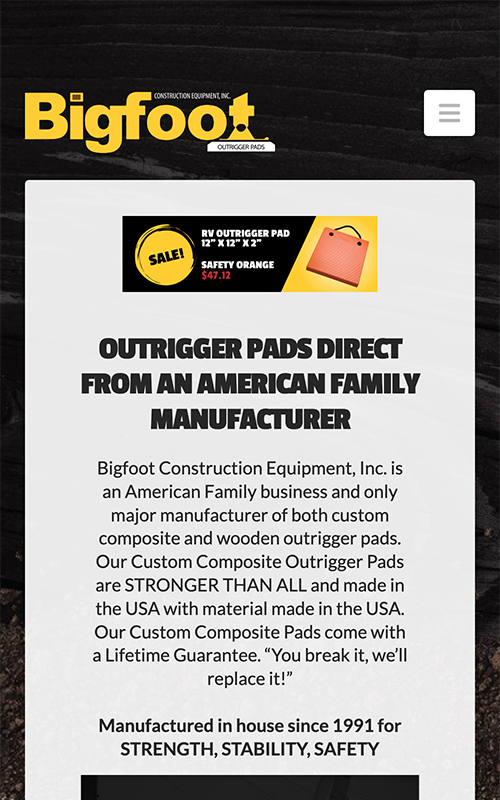 Speed Testing & Analysis
Page speed correlates directly with SEO: The quicker your website loads, the higher it will appear in search engine results. You'll also have more repeat visitors. Green Closet Creative excels at increasing page speed, creating an exceptional user experience and a higher conversion rate for our customers.
Here's a closer look at the speed test results for Bigfoot Outrigger Pads.
Desktop speed test results

Mobile speed test results

Graphic Design
Consistency Across Media
We understand the importance of maintaining a consistent brand look and feel across all marketing materials. That's why when it came time to create a new brochure and sell sheets, we knew we had to make it look and feel like our recently redesigned website.
To achieve this, we started by studying the design elements that made our website successful. We analyzed the color scheme and layout, and incorporated those same elements into the brochure design. We also made sure to use similar imagery and language.
Consistency was key in ensuring that customers would recognize the Bigfoot brand and connect with the messaging, whether they were browsing our website or flipping through the brochure. By mirroring the look and feel of our website in the brochure design, we were able to create a cohesive brand identity that strengthens our marketing efforts and resonates with our target audience.